I think winter is almost over. I've almost permanently switched over to a spring coat, and I have worn capri tights more often than my winter leggings when running lately. And speaking of running, I have been running outside! I think the last time I stepped on the treadmill was two full weeks ago. Most importantly, champagne mangos are showing up at the grocery store.
So, with signs of spring and thoughts of warmer places, I made this 2-grain, 3-seed tropical breakfast bowl on Saturday. Eric said it reminded him of mango and sticky rice that we gobbled up in Thailand, and while it wasn't inspired by that treat, it did certainly hit those notes.

Eric and I took the time to plan a year of trips while we still have the Southwest Companion Pass, which expires at the end of this year. We have some fun stuff coming up, including a weekend in the Florida Keys, camping in the Sawtooths in Idaho, and a week-long trip to Austin (Eric has a conference there) and San Antonio. We've decided to put off all international trips (except trips to Mexico on Southwest) until next year. My feet are seriously itching for something exotic, but we must take advantage of 2-for-1 domestic plane tickets while we can.
Anyway, back to breakfast.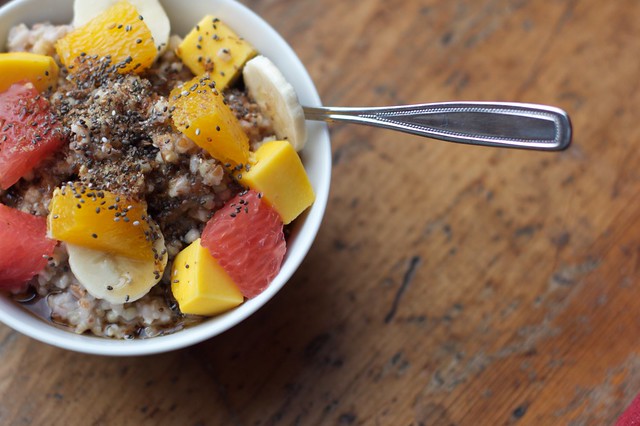 Tropical Breakfast Bowl
The mention of two grains and three seeds above may be confusing, but buckwheat is actually a seed, not a grain. As for the coconut cream, often times a can of coconut milk will be separated into a thick cream on one end of the can and a watery milk on the other. If your can is not separated, just use the combined milk and add it to taste.
*Serves 3-4
1/2 cup steel cut oats
1/2 cup bulgar wheat
1/2 cup buckwheat groats
2 tablespoons coconut cream
1 tablespoon maple syrup

1 mango, cut into cubes
1/2 pink or ruby red grapefruit, peeled and cut into cubes
1/2 orange, peeled and cut into cubes
1 banana, peeled and sliced
1 tablespoon flax seed powder (or whole flax seeds are fine also)
1 tablespoon chia seeds

Cook each of the grains separately in double the amount of water (ie, for 1/2 cup steel cut oats, cook them in 1 cup water) until all the water is soaked up and the grains are tender. Mix all the cooked grains in a bowl and, while still warm, add the coconut cream and maple syrup. Stir around until the coconut cream is melted and thoroughly combined. Taste and add more sweetener if you prefer.
Top with fruit, flax, and chia seeds.